Measure Your Body

So You Can Manage It Better
Achieve your goals by knowing exactly what to work on. There's no more guessing. Train smarter, eat better and pinpoint the areas you need to focus on. Just after one scan, you'll know the type of training you need, the foods to eat and how soon you'll get there. Track, analyse and improve the way you look. Book your scan today.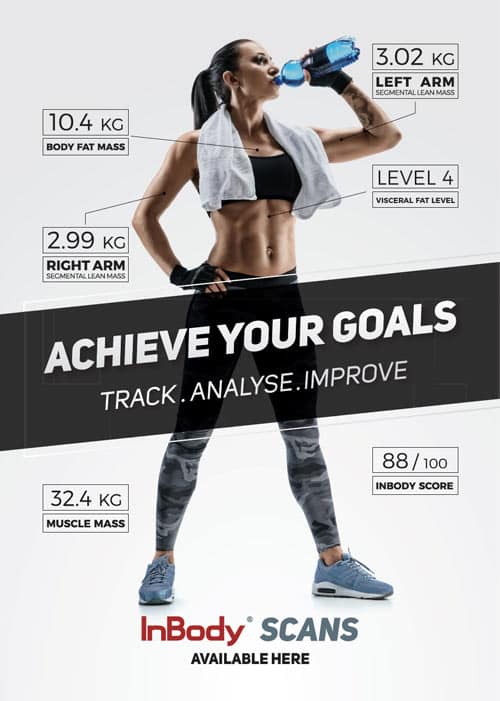 So You Can Achieve Your Goals Quicker
Body Composition Analyses
After just a few minutes, the InBody scanner will analyse and calculate your body's composition and tell you exactly how much Water (L), protein (kg), minerals (kg) and Body Fat Mass (kg) your body is made up of.
Ever wanted to know how much lean muscle you have compared to fat? This is the most sought after test to determine how well your dieting and training is working for you. You'll know whether to better manage your diet, training or both.
Segmented Lean Muscle Analyses
Did you know having different compositions between the left and right side of your body is the cause of pain and muscle imbalance? Our segmented muscle analyses calculates the lean muscle differences of your left and right arms and legs, including your trunk. This way, you can better manage your training and fix the cause of muscle imbalance and pain.
Saturday 16th September 2023
Come join us on Saturday 16th September between 6:30am-9:30am and meet like-minded people.
Where: Fortify Fitness: 2 Mallard Dr, Altona North VIC 3025
Price: $50
Book your details below:
Follow Up Scan Date
Saturday 2nd December 2023
Come join us on Saturday 2nd December between 6:30am-9:30am and meet like-minded people.
Where: Fortify Fitness: 2 Mallard Dr, Altona North VIC 3025
Price: $50
Book your details below:
Body Composition Assessments by: